Your new route to market is here!
SwitchWaterSupplier.com is clear in its aims; to bring customers and retailers together, help make the market work, remain impartial and fair in our dealings.
In doing so, that means we want to work closely with your business to help maximise its fair share of the switching business, which is inevitable.  If you engage with SwitchWaterSupplier.com's service, the potential to reduce your cost of customer acquisition is significant and the opportunity to grow your customer base is guaranteed.
Besides recognising the challenges that have come about since the market opened for business, together with the commercial opportunity for a business to seek to address these, and to present a solution to the current impracticalities that exist for many organisations wishing to investigate the potential benefits from switching, we knew it was important to engage with Ofwat, WICS, MOSL, the Central Market Agency and as many of the UK water retailers as possible.  We acknowledge, as many also do, that it is the water retailers who are feeling the most pressure in this immature market.
Our founding expertise in the industry is significant and comes from the perspective that can positively address the market challenges that are being cited regularly in various reports.  Rather than comment on the 'state of the market' from afar, we genuinely believe we can make a difference to how well and how quickly the market matures and addresses some of the key issues.  In the process of doing this we know we can not only offer solution to the needs of the customer, but also provide a mechanism to help retailers reach a far greater proportion of the non-domestic market, and at a reduced cost of doing business when compared with other, manual sales activities.
Our goals are to bring customers and retailers together and to best serve our customers, retailers and the wider water retail market through continuous innovation of our online and consultancy services.
It's important for water retailers to understand some of the fundamental aspects of our business and how we're pledging to align our methods and services as best as possible with the needs of all parties, not just the customer.  We understand the delicacy of the water retail industry and how incredibly tight margins are in the English market.  Our experience working in the water industry allows us to propose a business model that leaves margin in every deal.
Together with the other open water market stakeholders, we want to stimulate healthy competition between water retailers, but also avoid being responsible for creating an environment where greed leads to a race to the bottom, with no consideration for service levels and the need for water retailers to strive towards meeting the improved standards of customer service that the Ofwat are strongly promoting.  For this reason, we've worked closely with as many parties as possible to-date, and sought to engage with every retailer – not always with the same enthusiasm as we might have hoped for – to ensure the solution we brought to market addressed as many challenges as possible, and took on board those points of interest and concern from the UK water retail community.  The comment and feedback we've received has been very positive from the water retail community, with the general appreciation for how our entry in the market brings great opportunity to the community.
We definitely want to be a part of it.  It's great to see some innovation and creative ideas which will benefit customers of all sizes.
We really want to hear from you all!  Water retailers have a fantastic opportunity to align themselves with a new route to market through SwitchWaterSupplier.com, and as our portfolio of services grows, you'll want to be a part of it. SwitchWaterSupplier.com is giving every water retailer the same, fantastic opportunity, without bias or prejudice.
If we haven't heard from your business, please do reach out. Let SwitchWaterSupplier.com introduce you to its business in detail and allow you to fully understand where your business stands to benefit and how you can make the most of the relationship.
Working with switchwatersupplier.com Infographic
Our aim is to bring customers to you, support the market and remain impartial throughout.
Take a look at our infographic to learn more about working with switchwatersupplier.com
Clearly a commercial business, our goals include the delivery of innovative technology and service solutions to address water retail market challenges and bring about benefit to those affected.  We think that water retailers feel the brunt of many of these challenges and we want to do our part to help.
Just over half of all non-domestic customers are aware of switching, but engagement continues to be low.  We want to help fix this from a combined technology and services perspective with impartiality and objectivity at its core
The offer and adoption of water efficiency measures has been slow to develop, but we're confident we can help accelerate a more widespread appreciation and adoption
Some customers are consolidating bills, but currently this presents many practical issues.  We have an interest in helping to manage both the choice of how to be billed and water bill validation for our customers and working with the industry to iron out the kinks
Small customers are more likely to perceive that benefits of switching are unlikely to exceed the costs to do so, as most recently cited again in Ofwat's 2019-2020 State of the Market Report (pg. 10).  We think we can help correct this perception issue and bring more customers who are considering switching to the water retailing communities in both England and Scotland
Many customers are being overcharged or undercharged – for many, it is highly likely their charges are incorrect due to incorrect market data following deregulation.  With technology and volume of customer transactions we think we can help play a part in correcting the water bills for the benefit of the entire market
SwitchWaterSupplier.com is focused on addressing and providing practical solutions to these and other water retail market challenges.  Our services on entrance are only the beginning, but by joining us on the journey, the entire market will benefit.
We've done our very best to make the SwitchWaterSupplier.com platform a feature-rich tool for the customer, where they can manage their water portfolio, from one site to a thousand, throughout the UK.
But, the tendering process has been based on tried and proven methods of brokering on behalf of customers, combined with new thinking to streamline and make the process as automated and efficient as possible via a web application.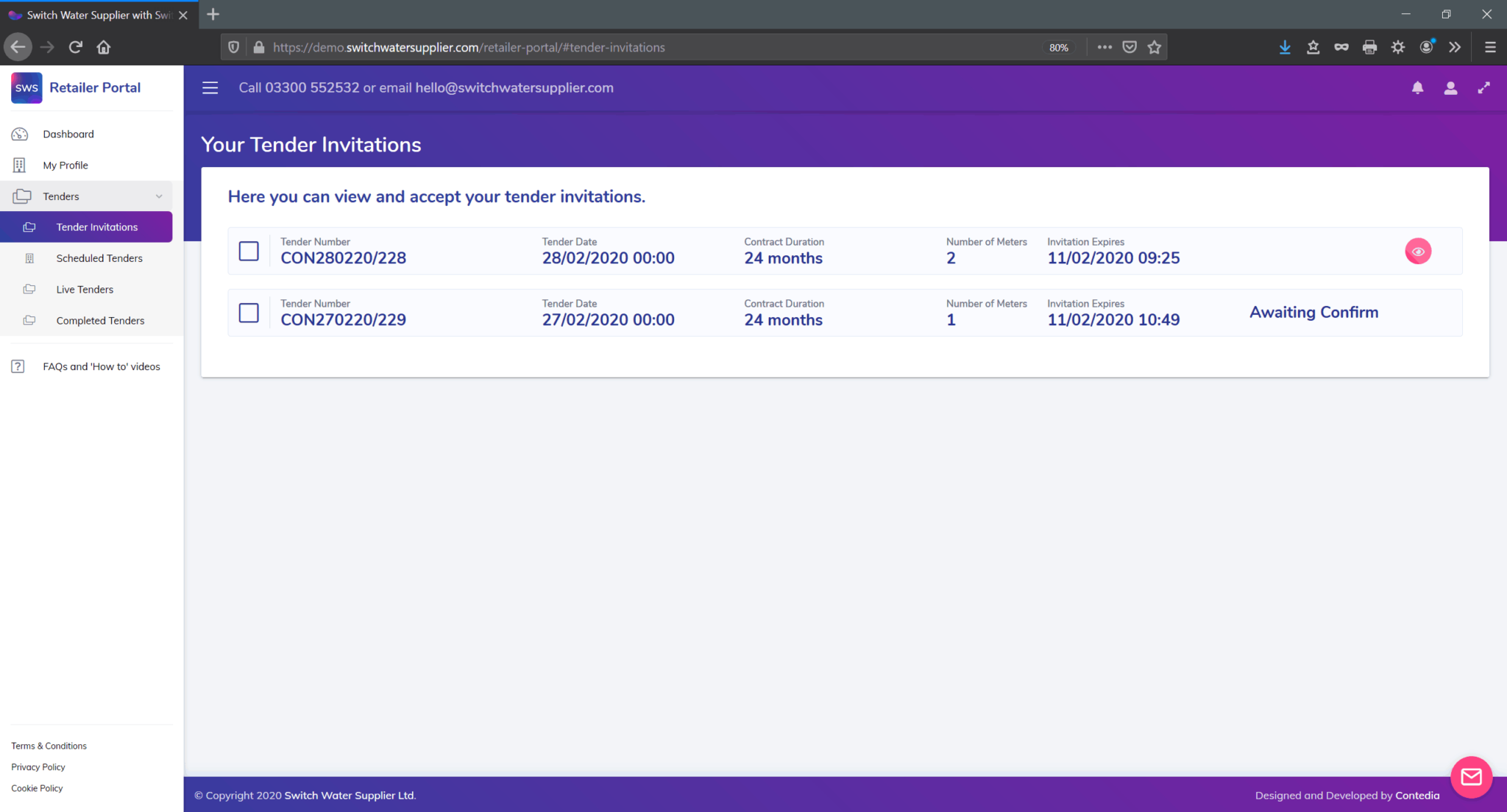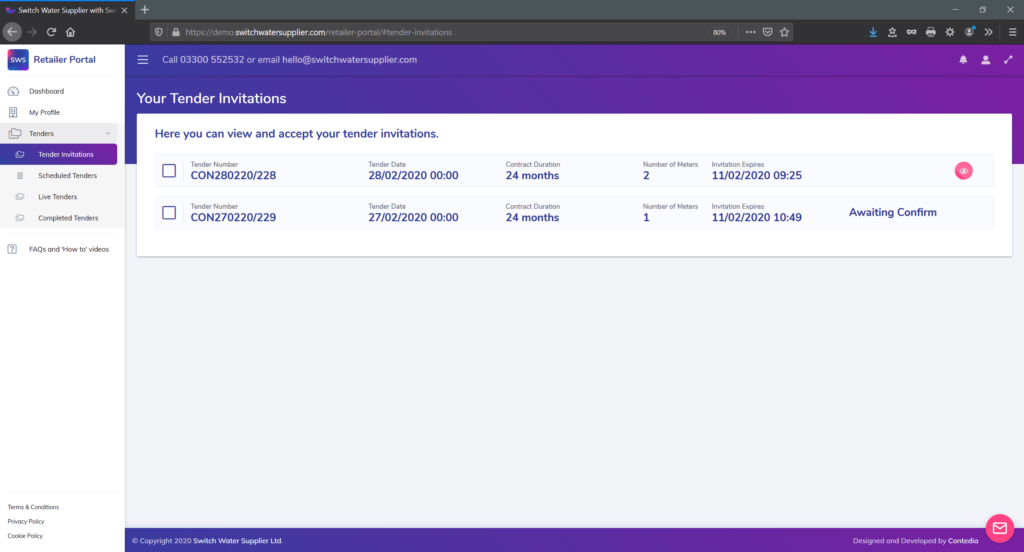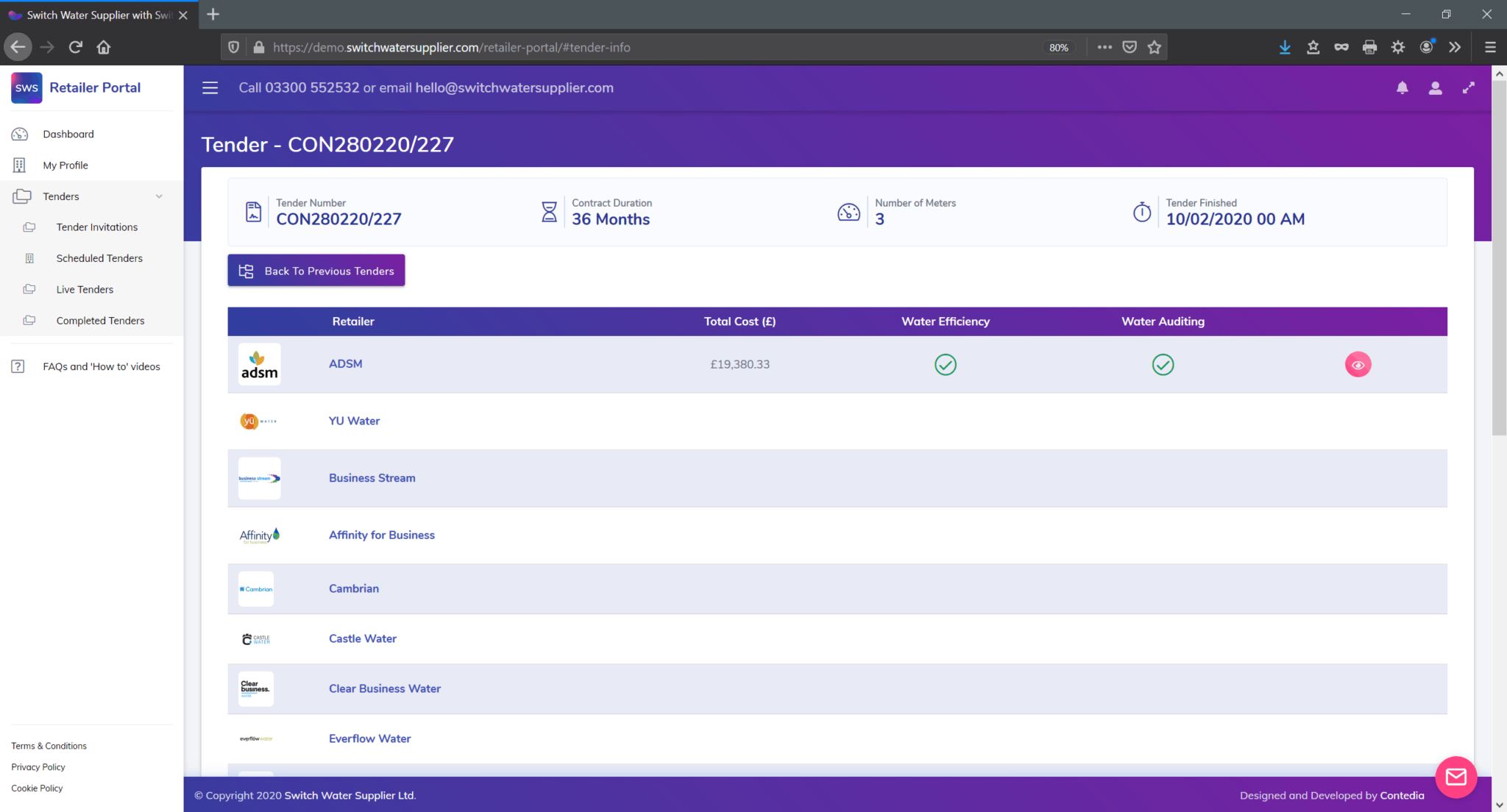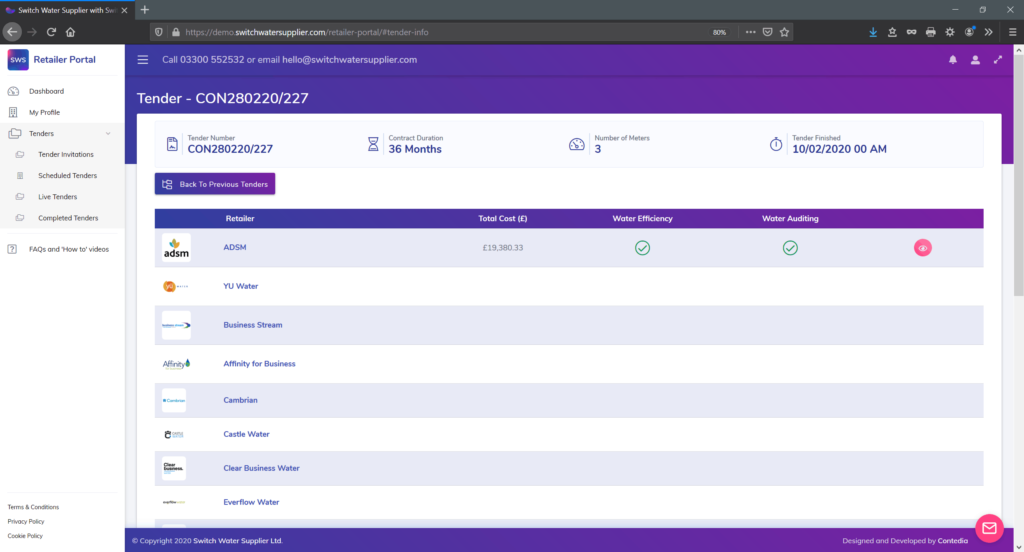 In the interests of commercial sensitivity we can only tell you the general principles here, but we'd love to show each retailer how the platform works for you on a one-to-one basis.  We'll continue to reach out to those water retailer we have yet to bring onboard, to introduce ourselves and offer a demonstration of the platform for your teams.  In the meantime, please feel free to contact us via retailer@switchwatersupplier.com.
The general principles of our switching service and online platform are as follows:
Through our own direct marketing and strategic partnerships, customers will create and manage accounts on the online platform, which is designed for ease of self-service and to provide a number of beneficial features for general portfolio visibility and management
Either alone or with SwitchWaterSupplier.com's assistance, the customer will populate the details of their property portfolios, SPIDs and water meters, whether that's a single site or a thousand
With the details of any existing contracts and discounts also added, again, with or without our assistance, the customer will request a tender and follow four easy steps before the request is passed to SwitchWaterSupplier.com to review and schedule – we'll schedule tenders based on our appreciation for the size of the customers' portfolios and how much effort may be required by water retailers to obtain and calculate historical market data on which to prepare a quotation
Once scheduled, every water retailer will receive an 'invitation to tender' email, which provides a few key pieces of information.  The information includes the customer's name, nature of the customer's portfolio size, approximate annual spend, region (i.e. England, Scotland or Wales), whether there are customer questions and/or criteria that accompany the request for a quotation, and details of when the tender will run and for what period of time
At this stage, water retailers may ignore the invitation, decline formally or accept through the link in the email or directly via the SwitchWaterSupplier.com water retailer portal
Those retailers wishing to participate in the tender will be bound by the terms of business we've agreed with you, which are largely there to acknowledge two primary objectives; that water retailers accepting an invitation are subsequently restricted from subverting the tender process by contacting the customer directly and outside of SwitchWaterSupplier.com's tender process, and also that there are no commissions or fees payable for participation except in the case that a water retailer is successful and chosen by the customer to provide their requested contract.  Our fees are dynamically calculated, with utter fairness to both the water retailer and customer in mind, and made clearly visible prior to, and at the time of submitting tender responses through the platform – water retailers are able to formulate quotations armed with the knowledge of the fees before committing their offer
Following the acceptance of an invitation to tender, water retailers receive direct access to customer information and have a period of time (usually 3 to 5 days) during which an initial response including market data they have prepared based on our direction, should submitted along with an initial quotation.  Initial quotations and responses to mandatory customer questions should be submitted by the date shown in the invitation, ahead of a formal tender window opening
At the pre-agreed date and time, a tender window (usually 1 hour in duration) will open and water retailers are free, if they so choose, to revise and re-submit quotations depending on their appetite for the contract available.  In the water retailer portal, quotations can be prepared in draft form and are submitted directly from within the portal to aid efficiency during the limited time available.  Water retailers may choose their own strategy and to not need to revise an initial quote and can also withdraw from a tender completely.  During the tender, water retailers are not privy to the quotations provided by others, but are able to see the relative positions of those also participating in the tender – we will encourage healthy competition at all times, but actively discourage quotations that cannot be practically served
On completion of a tender, and within an agreed and appropriate period of time, customers are obliged (through their terms of business with us) to provide a decision based on one of the offers made.  This may not be immediate, if the customer has multiple quotations and tender question responses they wish to consider.  SwitchWaterSupplier.com will not offer subjective advice or opinion on any quotation or water retailer – this is core to our values of providing an impartial and unbiased service.  We're working on a qualitative rating system, called Trust in Water', derived from customer data, but this will follow in the future.
All participating water retailers receive visible reporting on their performance, including quote and relative performance.  Where formal responses to questions have been requested, customers are obliged to mark/weight all responses first and before they are in a position to make an informed choice of water retailer.  Each water retailer will be provided visibility of their tender response weightings to further aid internal review and operational alignment – of course customer consideration is, to a large degree, always going to be subjective
Authorised on the customer's behalf, and following the customer's selection and notification through the platform and by email, SwitchWaterSupplier.com will liaise with both parties to ensure a switch is conducted as efficiently as possible and we may be required to continue to provide additional services to the customer
This is a journey and we're at the very beginning.  We have so much planned for the development of our tendering and procurement platform, and whilst we'll launch with some unique and exciting features that allow businesses from small to very large to engage with us, software and operational development will continue, giving depth and maturity to a system that will become the choice of many in which to manage their water portfolios.
From day-one the SwitchWaterSupplier.com platform provides:
Customer profile and contract preferences to help tailor their approach to tendering
The capability to manage portfolios for multi-site organisations (including multi-meter sites) with numerous operational units, UK-wide
Accommodation of customers already in a contract ('wholesale plus' and 'retail minus') and those on deemed rates
Features to allow the preparation for going out to tender with a supporting framework (i.e. requiring mandatory responses to questions or information requests, as defined by the customer)
An ability to go out to the market without a supporting tender framework
Advance opportunity scale information for retailers to plan their participation accordingly ahead of time
A 'fair play' business model and application logic, intended to ensure that whilst quotations are based the retailer's own wholesale and deemed rate data and charges, customer comparisons are focused on 'wholesale plus' and 'effective default minus discounts' as well as broader service offerings to allow equal retailer opportunity
Water retailer feedback on tender performance (positional and comparative on both tenders with and without a framework response), without disclosing sensitive competitive information.  This is as a result of water retailer consultation and feedback on the topic
Invitations to tender automatically distributed by retailer license type (e.g. England, Scotland, Wales)
Intuitive, online data entry for customers and water retailers, aiming to minimise unnecessary uploads and provide a comprehensive 'all day' platform in which to receive and respond to tenders and compete for business with zero lead acquisition cost
Document and contract upload and exchange repository
Customer reminders and automatic re-tendering
Time after time as we were designing the tendering and switching platform we were asked this same question.  Indeed it was our intention from the outset to remove as many barriers as possible that would otherwise prevent retailer engagement, after all, we're trying to address the needs of the whole water retail market, not just those of the customer.
SwitchWaterSupplier.com will not offer customers a subjective opinion about quotations or the performance of any water retailer.
SwitchWaterSupplier.com will not offer customers a subjective opinion about quotations or the performance of any water retailer. Our service will provide a means to seek quotations on as near like-for-like basis s is currently possible via a simple tender process, and the choice of water supplier will remain entirely at the customers' discretion.
We've designed the SwitchWaterSupplier.com platform to ensure every water retailer has an opportunity to participate in every tender and quotation request – that choice is yours.
Because we feel there's a need for this, and those we've spoken at length to would agree, we're developing a water retailer rating system, called 'Trust In Water', and we'd love you to be involved in its development, for the benefit of all retailers.  We'll make the rating work for the customer and the water retailer, maintaining every reason to consider the playing field 'level', whilst benefiting from the insight a water industry-specific rating system provides.
Let's be clear, given the opportunity to compare quotations from multiple retailers, some organisations will always place a greater priority on charges and discounts offered over other factors, it's inevitable.
When we set out to design the SwitchWaterSupplier.com platform, one of our main aims was to address the interests of the customer in providing an easy-to-use system that seeks water retailer engagement and the ability for a customer to receive as near to like-for-like quotations for the onward supply of water and wast water services as possible.  But, to accommodate the interests of medium and larger businesses, and those with either large spends at a single site or a portfolio spread across the UK, we've included features to allow customers to seek a response to one or more questions, or to stipulate criteria that must be capable of being met by a water supplier in order to tender for their business.
Where more formal responses to a tender are required, we'll provide water retailers with some competitive analysis information that maintains privacy in areas of most concern to the community, but which offers valuable insights in to comparable performance relative to peers.
We're not making the inclusion of tender questions and criteria a mandatory requirement, as some customers, regardless of size, simply don't want this.  But, the option to do so is there, and we'll advise customers on when they might wish to consider the use of this feature.
Water retailer participation will always be offered free and, in fact, such is our sense of obligation to do right by the market as a whole, that every water retailer will receive an invitation to tender for every opportunity.  The choice as to whether to participate in any tender, or at all, is entirely their own!
There's no charge to receive tender invitations, or to participate, and clearly there can be no charges except in the case of being successful and a customer choosing their preferred water supplier based on their evaluation of quotations and tender responses (if made a requirement by the customer).  Throughout a water retailer's participation in a tender, the fee SwitchWaterSupplier.com will charge in the event their response being successful is dynamically displayed alongside draft quotations, so we provide total visibility and water retailers can manage quotations accordingly.
It's our aim to ensure that good margin for the retailer remains in every contract, so our fees are dynamically calculated on very modest percentages that scale accordingly.
It's SwitchWaterSupplier.com's aim to ensure that good margin for the water retailer remains in every potential contract, so our fees are dynamically calculated on very modest percentages of the wholesale charges, that scale accordingly – we understand the need to collaborate intelligently with water retailers in order to promote the potential benefits of switching water supplier.  We won't publish the scale of our charges, but based on our decades of water industry experience, agreeing mutually acceptable terms with water retailers, we know that for the service provided, and with the specific details of each quotation taken in to account, our fees are fair and appropriate, both to the water retailer and in respect of the effect on the customer.  You'll see for yourself, as soon as you take part in your first tender!
Besides everything we've said above, we're working hard to ensure there's no reason you wouldn't want to work with SwitchWaterWaterSupplier.com!
It's clear, though, that the open water market needs time to mature and to overcome some of the challenges caused by the initial process of deregulation.  Among the various market stakeholders, including Ofwat and MOSL, there is a firm goal to improve how the market is currently operating and to offer improvement to the customer offering on a range of topics, from customer service, to billing accuracy, frequency of meter reads and so on.
Providing the customer with a simple and more efficient method of approaching the water retail market for quotes and considering, if not engaging in, a switch to an alternative water supplier is one of the key challenges that needs to be addressed in the short-term.
However, let's be practical, in due course, as with other markets, the idea and practice of switching will become commonplace and businesses will continue to seek comparison and improved services from the open water market as a part of their overall facilities management strategies.  Therefore, comprehensive tendering and switching platforms, like SwitchWaterSupplier.com, will emerge and businesses will be drawn to their ease of use.
Our work in developing the first water tendering and switching platform for non-household customers, including the larger spending and multi-site organisations, is intended to help the UK open water market mature, and for the customers to benefit from the opportunity to switch water supplier, whether they choose to do so.  We've openly received support from many stakeholders within the water retail and wholesale markets, as well as from many of the typical customers we aim to help. As a result, we are confident that we will provide water retailers with a large number of qualified, high quality opportunities to acquire new customers, with annual spends of as little as £1,000 to some of the very largest accounts in the UK.
In order to help the open water market find maturity, we would urge every English and Scottish water retailer to take advantage of the zero cost of engagement SwitchWaterSupplier.com offers, to provide quotations and responses to customer tenders requests and look to grow your own client bases.
…to fail to engage with SwitchWaterSupplier.com, and provide access to the market that customers seek, is to stand to see your own customer base slowly eroded as others bid for their custom.
Be mindful, of course, that SwitchWaterSupplier.com doesn't endorse the submission of unrealistic quotations or false or misleading market data or tender responses, and we'll work with the water retail market to provide an impartial and robust platform that works for customers and water retailers.  But, to fail to engage with SwitchWaterSupplier.com, and help to provide access to the water retail market that customers are seeking, is to stand to see your own customer base slowly being eroded as others bid for your customers' contracts.  Healthy, professional competition is nothing to fear, and our tools and software platform development objectives going forward are aimed at supporting the water retailers' understanding of customer needs in a competitive water retail market.  Our work should help water retailers to align their business processes with the needs of the open water market and ensure future success.
If your retail business has no firm strategy for the provision of water efficiency and consultancy services within its current portfolio, why not speak to us about a silent water efficiency and consultancy service partnership? Granted, you might not be the only retailer wanting to do this, but as far as the customer is concerned, services provided by your business are yours, and it might just help to close a services gap for your business and allow you to remain competitive on all points of interest to the customer.
We've done our best to ensure every water retailer has a profile ready to activate, including at least one suitable contact email address to which invitations to tender will be sent.
Our tender invitations will be coming from no-reply@switchwatersupplier.com, so we recommend you whitelist this address as a minimum, if not any email originating from SwitchWaterSupplier.com just in case.
If you haven't been in touch with SwitchWaterSupplier.com directly, we urge you to call us on 03300 552532 or emailing us to make sure your profile is complete and the email address(es) we hold are accurate.